Our blog
The Mayors Charity Bike Race video of Faiths Together in Croydon Team in action:
00:21, 22 Mar 2018 by Kate White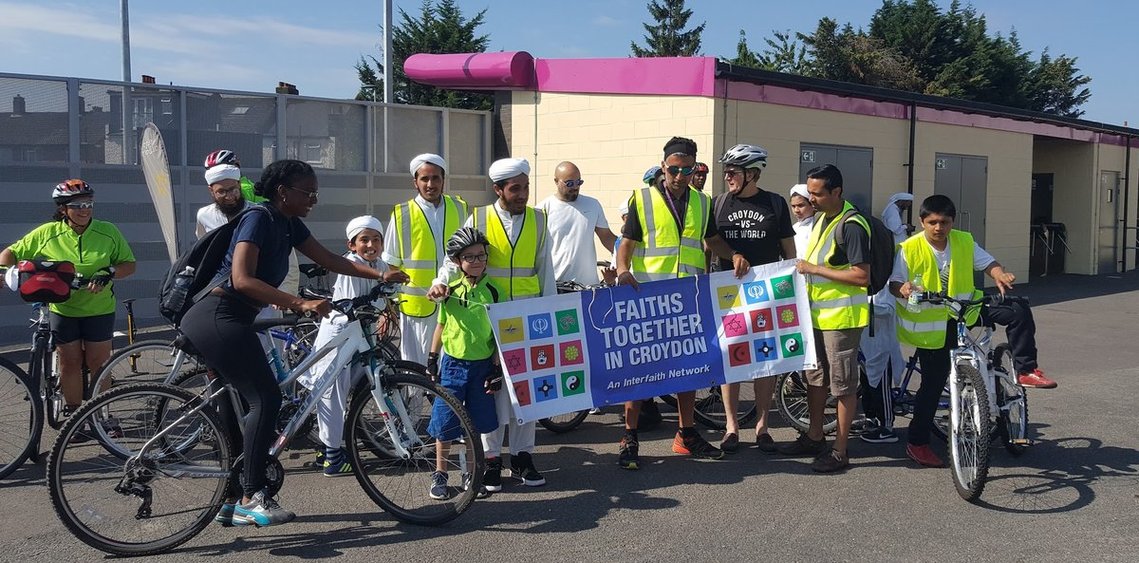 The 3rd annual Interfaith Bike Ride and Picnic hosted by Faiths Together in Croydon was more successful than ever. Around 30 riders left Croydon Arena and were joined by 15 more at Box Park where the riders were welcomed by the Leader of the Council, Tony Newman, and Councillor Hamida Ali. After a break for coffee and croissants, the riders continues to the Gurdwara for cold drinks and fresh fruit and a warm welcome. Continuing on to the Synagogue, there was an equally warm welcome and more cold drinks. The final leg of the ride took us across the golf course to Park Hill where others were waiting to greet us. The Mayor, Councillor Toni Letts, arrived shortly after and congratulated the riders. Many different faiths were represented on the ride and at the picnic.
Thanks to Dominic, Sarah and Mel from Cycle Training UK for guiding us safely along the route and to Croydon Council for supporting the ride and picnic.

Member of many different faiths were represented on the ride and at the picnic and all ages.

More photos on Twitter under the #FTiCbikeride hashtag, and the Faiths Together in Croydon facebook page,
00:14, 29 Jun 2017 by Kate White

Archive
Use the calendar or list of months to view entries made on those dates.
| S | M | T | W | T | F | S |
| --- | --- | --- | --- | --- | --- | --- |
| | | 1 | 2 | 3 | 4 | 5 |
| 6 | 7 | 8 | 9 | 10 | 11 | 12 |
| 13 | 14 | 15 | 16 | 17 | 18 | 19 |
| 20 | 21 | 22 | 23 | 24 | 25 | 26 |
| 27 | 28 | 29 | 30 | 31 | | |